A Checkmate Success Story
This case study of one of our clients, who managed to triumph over the infamous woes of industry; although the company must remain unnamed for confidentiality purposes, this story is as true as it is inspiring.
This particular client has succeeded in more than doubling their plant size and customer footprint in the time that we've been in association with them.
This particular client reached out to us, expressing their concerns over some of the usual anguish-inducing operational issues they were experiencing, including:
They lacked accountability and follow-up on implementing corrective action when issues arose in operations.
As a result, the same issues would repeat themselves in the production environment, which was taking a toll on management, and subsequently their audit results
Job card actions were poorly documented, so they lacked the necessary infrastructure to accurately record and recall root-cause, corrective actions, and downtime figures
Co-ordination and communication between shifts was inconsistent, resulting in lowered levels of accountability for mistakes arising toward the end/ beginning of shifts
If you've ever worked in the automotive industry, or just about any factory, you will be familiar with these adversities of old. Fortunately, our team of engineers had, indeed, worked in the manufacturing industry and set to work, developing a highly visual and intuitive solution.
The result: the advent of three of our apps, namely, the Open Issues List Task Management App (now our most widely utilized product), the Job Card app and our Shift-handover App (not currently listed in our Products catalogue, but you can find out more about it here). All of these apps are 100% mobile-friendly, so production staff can use a work tablet or even their smartphones for convenience.
Open Issues List Task Management App
This app was designed to eradicate these problems with accountability regarding task allocation and completion. Tasks are created, assigned to an employee with a due date, and are visible to the necessary users based on their permission levels. Tasks can be grouped into different forums, with different user-permissions to ensure that any sensitive data is not available to all the plant's employees. Find out more here .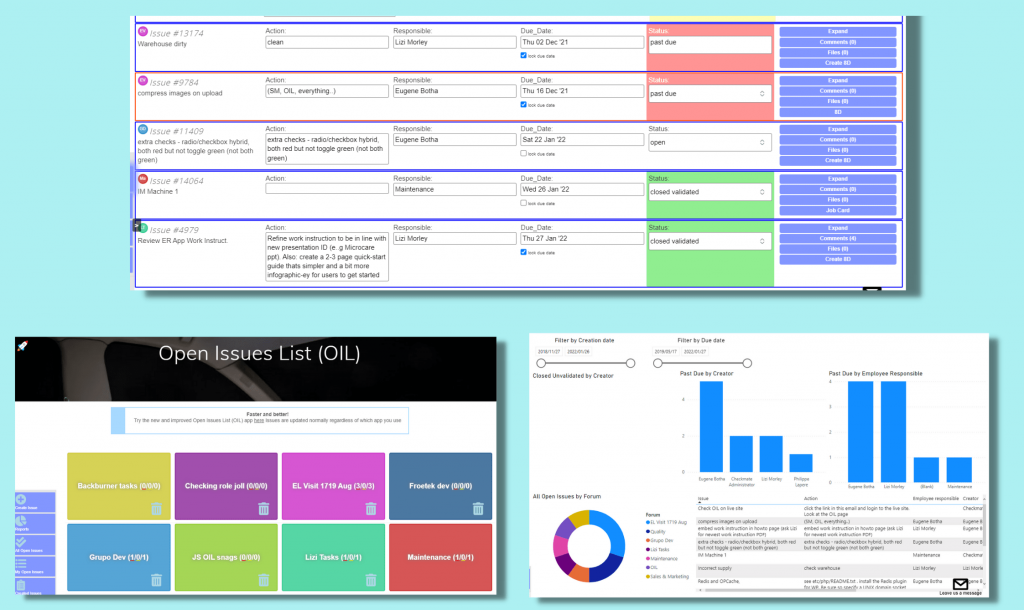 Job Card App
Designed to address a lack of visibility surrounding routine and once-off maintenance activities, this app is used to document the time of failure, call-out responsible artisan and a closure statement on the action taken to correct the problem. Find out more here.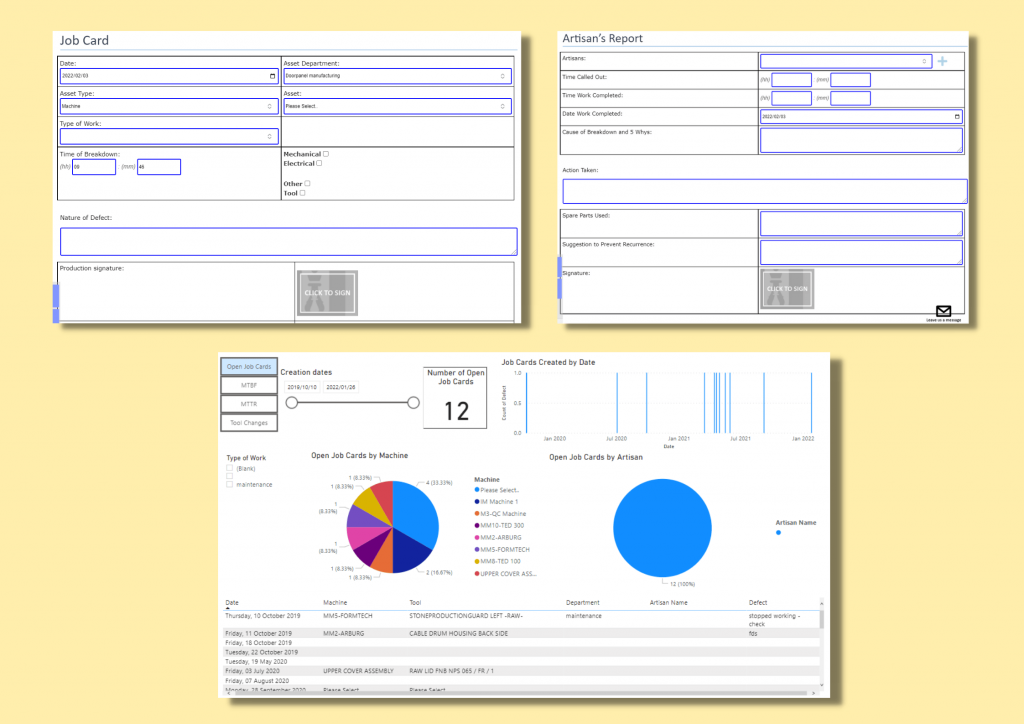 Shift-handover App
This user-friendly software provides a digitised template for outgoing shift supervisors to perform their routine checks before the new shift arrives. Once the checks have been completed, both the outgoing and incoming shift supervisors sign the document online. This quick and easy to use software has caused seamless shift changes to become the norm, and has created accountability and organization between shifts. Although the software is configured to show a specific company's routine checks, we are able to customize the template to suit the needs for any plant.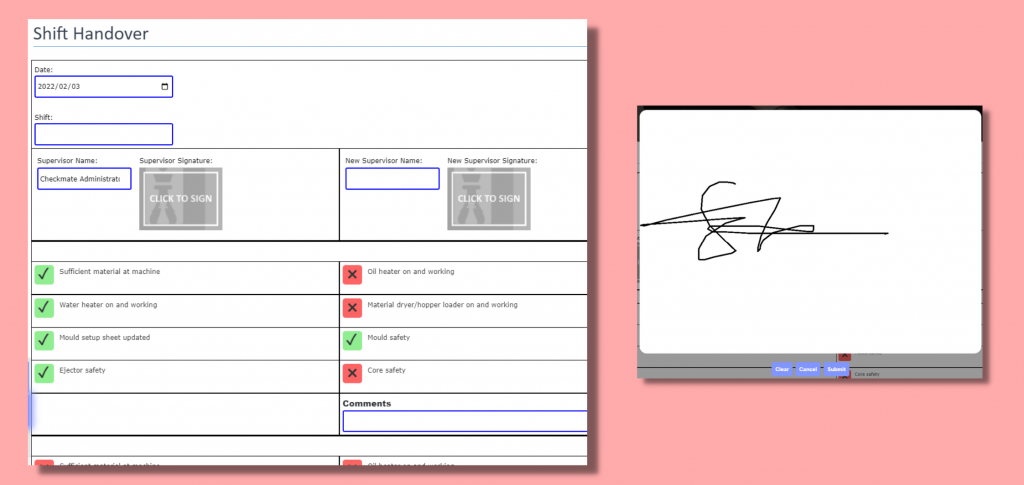 Through standardizing these processes, our clients have been able to properly monitor progress on tasks, and to ensure that they are properly completed. Furthermore, now that these processes are performed and recorded digitally, our analytics dashboards offer real-time insights into which processes are negatively affecting production most, so that those areas may be targeted and improved. Our secure cloud storage ensures that our clients are audit-ready, with all their manufacturing issues, corrective actions and associated timing data always at the ready. Now, "seamless" is a strong word, particularly when describing a shift-handover, but our Shift-handover app has at the very least ensured "streamlined" handovers between shifts.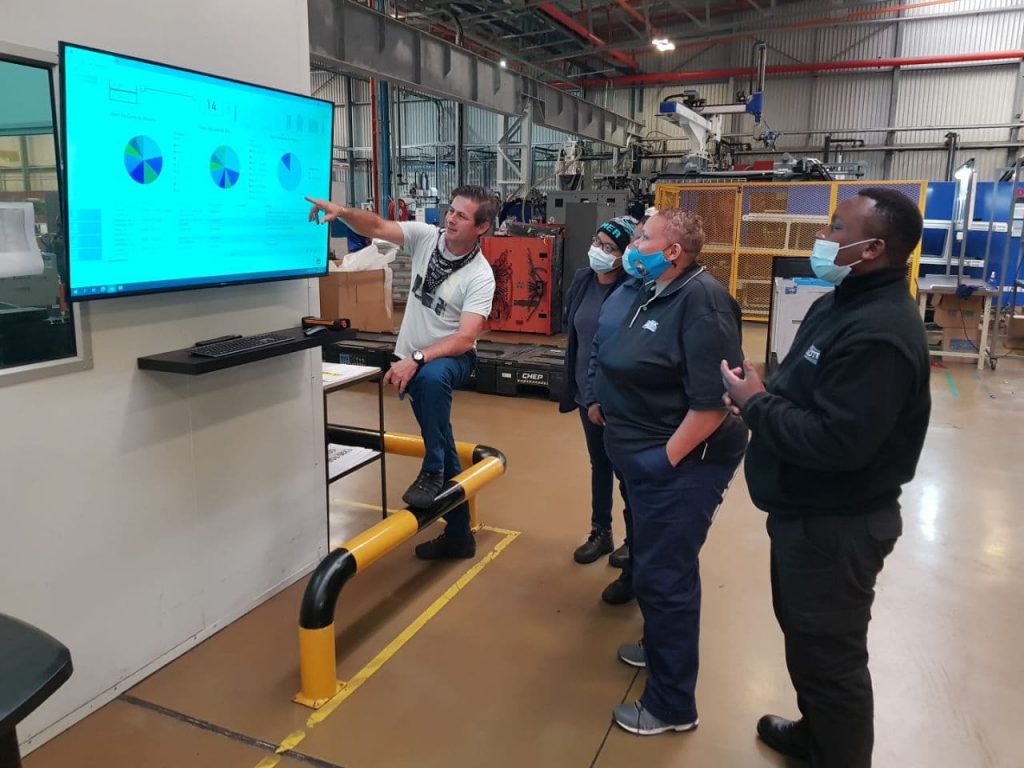 Today, Checkmate maintains a close relationship with the stakeholders at this client, welcoming feedback on how our products could be improved and continually update their reporting dashboards to reflect changing company KPIs. This particular client has succeeded in more than doubling their plant size and customer footprint in the time that we've been in association with them.
Find out more at www.checkmate.co.za !