Quote of the Week Round Up
ChCheckmate dedicated the month of March to reflecting on the wisdom of industry-giants, with each week of March celebrating a quote by a renowned individual in the fields of manufacturing, technology and innovation at large. Here's a roundup of what we learned and how these principles drive what we do at Checkmate.
Peter Drucker, who is celebrated as the "Father of Management Thinking", was one of the first people to deem the management of people as a distinct responsibility- catalysing the invention of every management and, likely, every C-level role that we know today. Many of our readers may be familiar with this quote of Drucker's, as it has frequented our LinkedIn timelines, Quality Management textbooks and team-building workshop PowerPoint slides. However, for fear this important phrase may fade into the abyss of overused words of wisdom, losing its meaning as we grow desensitized to its message (along with its compatriots like "Keep calm and carry on") we'll explain exactly what it is that Drucker meant and why it's useful.
To determine what requires attention most urgently, particularly in the automotive/ manufacturing environment, where we can feel like we're constantly putting out fires, we need to measure and compare performance indicators in a consistent, visible way. It is through accurately measuring, and intuitively presenting performance, that we can adequately identify the most important thing, and to manage it accordingly. At Checkmate, we often refer to the "the most important thing". This is the task or problem that is most urgent or that is hindering the progress of other important tasks/ actions. By effectively identifying the "most important" thing, and always actioning that thing first before moving onto the next "most important thing", we can ensure we are consistently making progress in the right direction.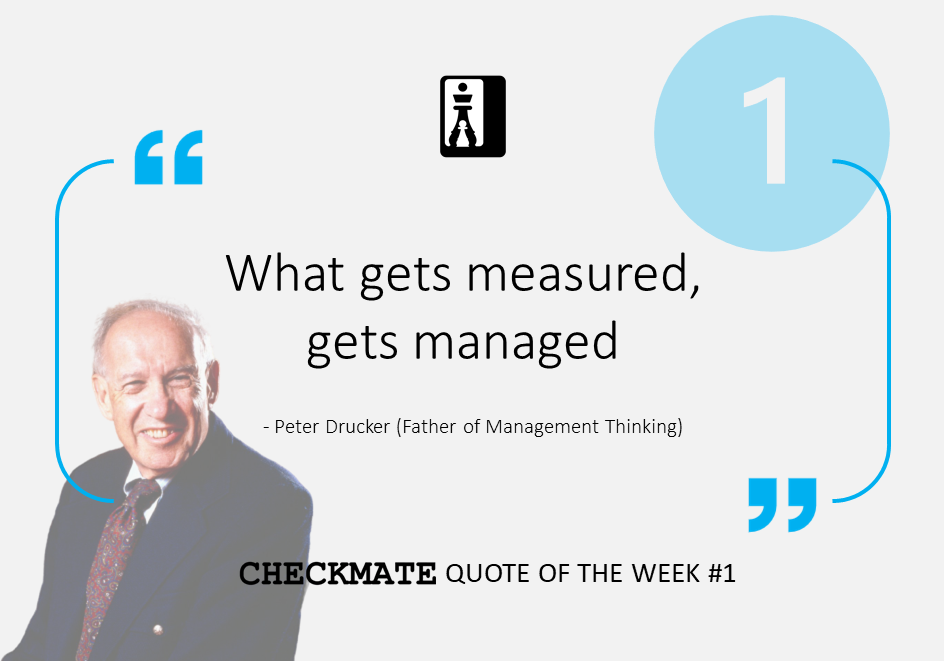 Although Einstein isn't particularly renowned for his contributions to the fields of manufacturing/ automotive, there's no denying that he is a man who knows how to get stuff done. This reputation earned him, and his words of wisdom, the 2nd spot in our "Quote of the Week" series.
Luckily for our clients, we've put in the work honing our applications for Production, Maintenance and Employee-relations management, through analysis by our team of industrial engineers, as well as through real feedback we've received from our clients. The result of all his planning has been exceptionally clear and intuitive reporting and data-capture forms, ensuring that our clients' day-to-day operations are as seamless as possible.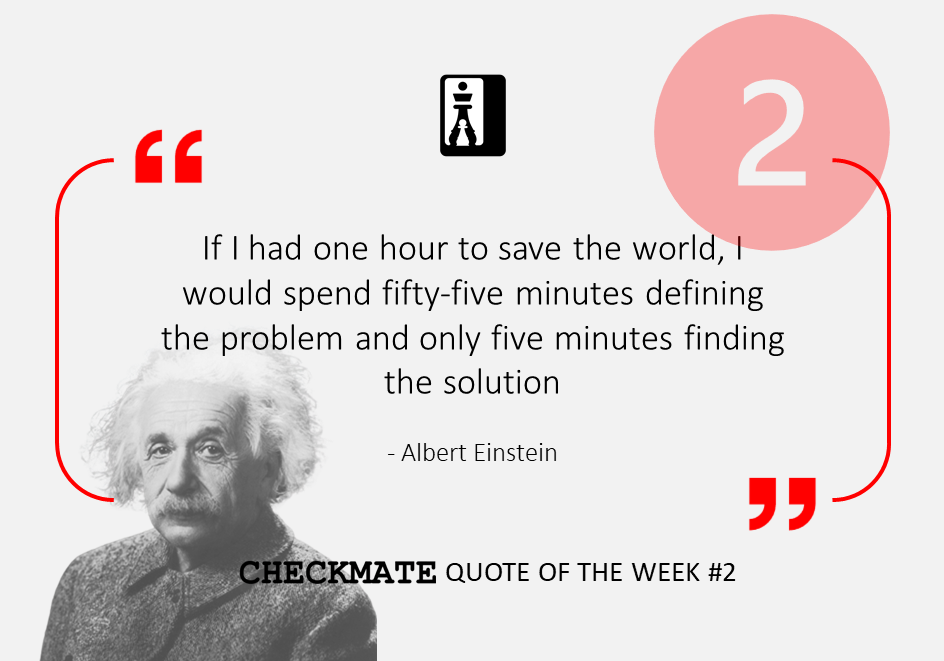 Unlike our first quote, this one refers to a more immeasurable and nuanced performance indicator, but one that is no less important. If anything, in fact, it may just be the most important thing: employee relations. The factors that drive employee-performance ultimately dictate the performance of our entire plant.
Checkmate is dedicated to fairness and consistency, to such an extent that we've developed an AI-powered application called the Employee Relations app. This application requires a manager, HR employee, or anyone really, to complete a short questionnaire (2-5 minutes) on any workplace transgression and it will provide the user with the appropriate steps to take according to labour law best practices. Since the process is so quick, it makes it easy to ensure that all employee transgressions are handled timeously and consistently, according to our trusted algorithms.
Furthermore, Checkmate aims to facilitate employee autonomy by creating interfaces that are intuitive to use and report that are easy to read. With these interfaces, not only are your employees empowered to work efficiently and autonomously, but this frees up higher level management time to address more pressing issues.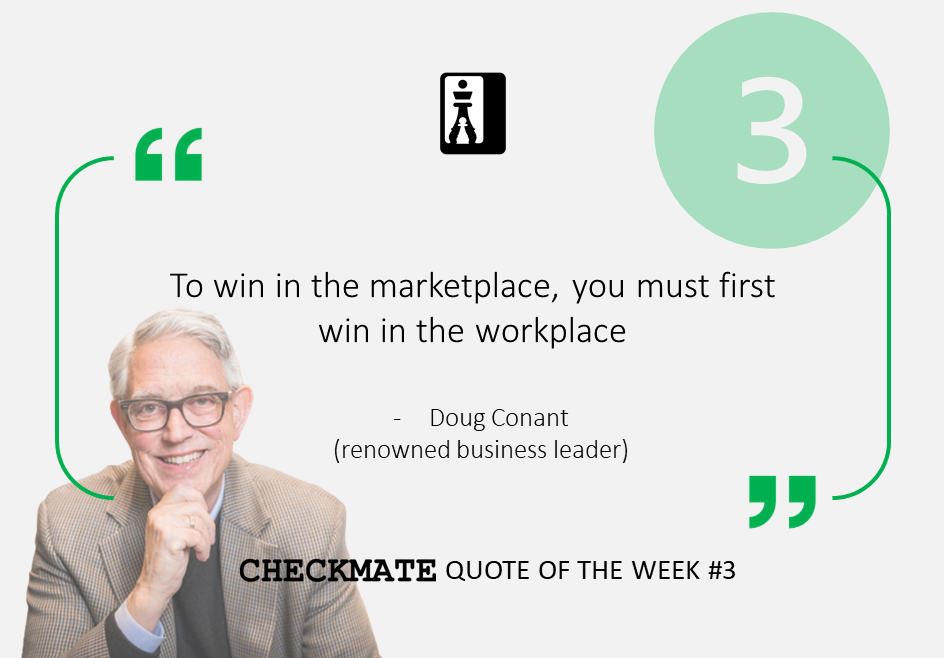 The fourth and final quote of the series is accredited to Doug Conant, who is renowned thought leader in business and management. Here, he suggests that it is rarely the user that is to blame for poor uptake of new technologies – when software is well-designed intuitive to use, people will use it.
Most of our current clients have moved over from larger, more cumbersome, and prescriptive systems to use our apps for this exact reason. Just like all of us, your employees and colleagues are constantly busy *list stuff you do at work- maybe list something that's a joke*, they don't have time to use systems with unnecessary and complicated steps. Our reports are clear and simple, as are our capturing interfaces, which ensures that your employees aren't wasting precious company-time trying to navigate complex systems and trying to decipher cryptic reporting outputs.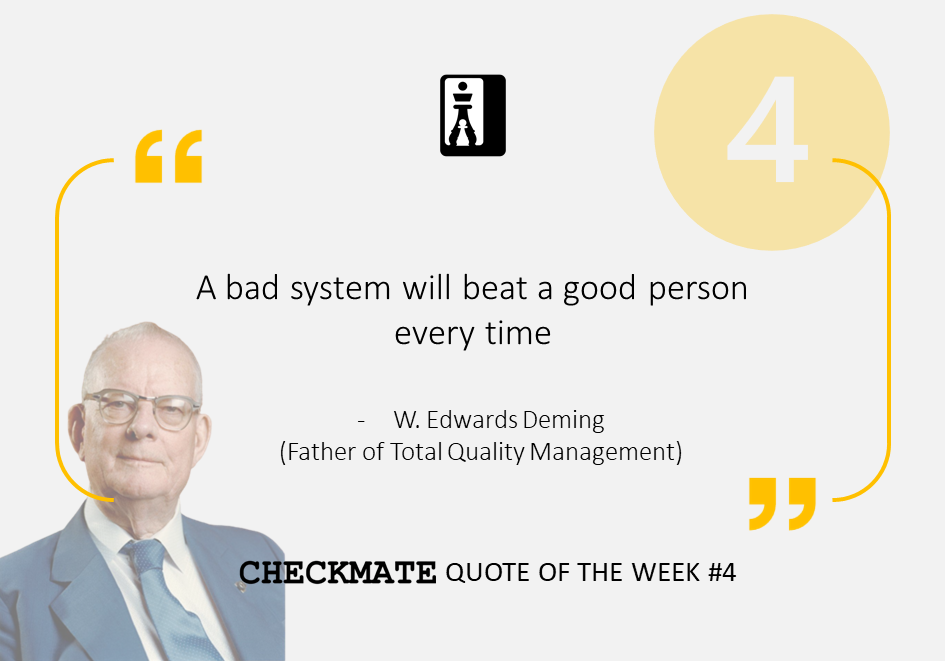 We hope you've learned something from these timeless quotes, whose principles have remained relevant and important, despite the everchanging nature of our manufacturing environments. At Checkmate, we consistently look to improve our apps and align our users' experience with these tried and tested principles. That's why our software is ideal for your dynamic production environment, and why our products will withstand growth and changes in your workplace.