Have you heard of our Employee Relations App?
Not many people realize that Checkmate was initially founded as a Labour Law-technological solutions provider; in 2017, an idea was sparked in the mind of our founder when his wife (an established SA labour lawyer) would regularly share stories of companies making the same procedural and substantive mistakes in their management of employees' transgressions. It was around this time that pair collaborated to create our Employee Relation App, an artificial intelligence tool that uses a simple questionnaire-style interface to determine complex labour law issues, and to provide you with guidance on the correct steps to follow, according to SA labour law best practices.
Over the course of 3 years, one of our valued clients has had the below successes, leading them to generate a return on investment (if you're inclined to think that way) of tenfold on their software licensing fees for this app, all the while ensuring fair process is followed with their staff.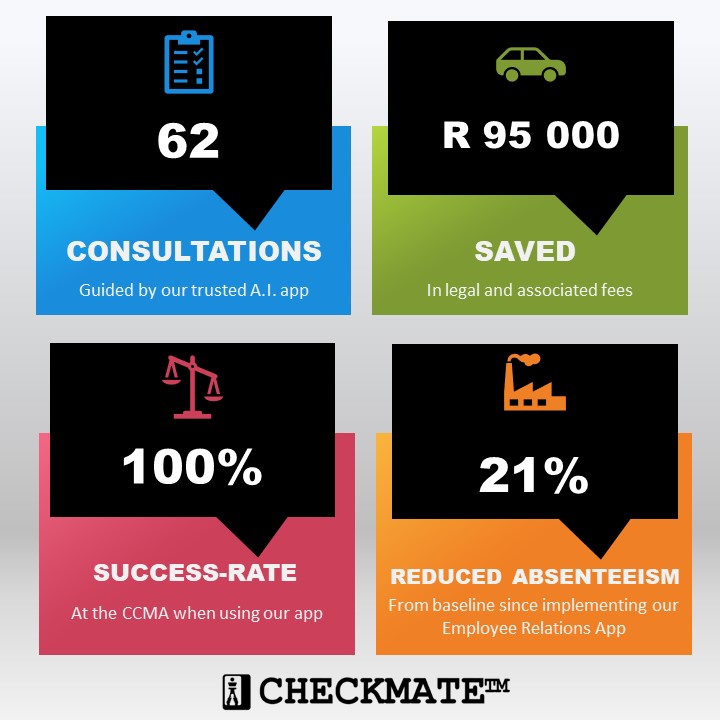 How does it work?
Sign up and upload a list of your employees
When an employee commits a transgression, go to www.checkmate.co.za/web-app/
Complete a 2–5-minute questionnaire detailing the nature of the offense/ transgression
Our AI algorithm will tell you the correct steps to follow according to SA labour law best practice, and you'll be provided with the necessary documentation to complete the steps
Some added extras:
All your questionnaire questions and answers can be downloaded to prove procedural and substantive fairness at the CCMA
All employees' transgressions are stored in our database, so you can track whether the employee is a first-time offender or not, and whether previous warnings are still valid
We offer customization services so you can provide us with your company's code of conduct, and we can incorporate those offences and accompanying disciplinary actions into the algorithm
Let us know in the comments if you have any questions!